Portsmouth Dental Care for Pets
Portsmouth dental care
for pets includes preventative and corrective care for dogs and cats. Unpleasant or foul-smelling dog or cat breath is one of the most common complaints pet owners have about their pets. Just like in humans, bad breath is caused by the buildup of bacteria in your pet's mouth, which causes your pet's breath to smell foul or rotten. And while no one wants to be exposed to rancid smelling breath, that odor is often a sign that other dental health problems may be lurking for your pet. A
pet dental cleaning
at our Portsmouth vet clinic will control your pet's bad breath and protect against more serious tooth and mouth problems.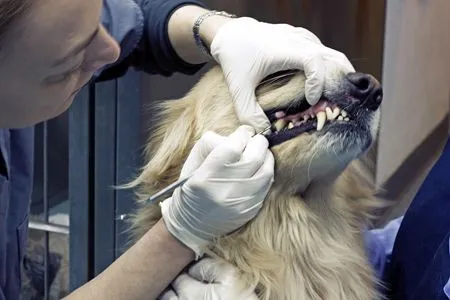 Pet Dental Cleaning for Portsmouth, Chesapeake, Tidewater and Suffolk Dogs and Cats
Here at Churchland Animal Clinic in Portsmouth, we believe proper oral care is an important part of your pet's health. We know that
pet dental care
is about a lot more than just controlling bad breath. Left unchecked, plaque and tartar can buildup below the gum line causing gingivitis, an inflammation of the gums that causes them to be swollen and bleed easily. This can also lead to the development of periodontal disease, an infection that can end in the total decay of your pet's teeth. Regular cleanings can stop plaque buildup before serious damage occurs, and help protect your pet from heart, kidney and lung disease. Just like you benefit from regular cleanings, your pet will also live a longer, healthier life.
Our oral pet care includes oral examinations, routine cleanings and extractions. During an oral exam, our veterinarian team will check for plaque build up, periodontal disease and tumors. While we can perform a basic check up while your pet is awake, short-term anesthesia may be required for an in-depth examination and dog dental cleaning. For advanced care, we offer mouth x-rays, scaling and polishing to remove plaque and scratches on the tooth enamel, and fluoride treatments to strengthen teeth.
We know the use of anesthesia can be an anxious and nerve wracking experience for pet owners. If anesthesia is necessary before a cleaning, we will perform a full, pre-examination diagnostic, including blood work. Diligent anesthesia monitoring ensures the process is safe and tailored to your pet's specific needs.
At Churchland Animal Clinic, your pets are our family, too. Whether it's a
dog dental cleaning
or checking the development of your kitten's teeth, we are proud to offer humane and compassionate care to all pets in the Portsmouth, Chesapeake, Suffolk, and Tidewater communities. We are a small, privately owned vet clinic dedicated to providing you and your pets with the best wellness care possible.
Remember, your pet can live a longer and healthier life with routine teeth cleanings. If you have questions about how you can care for your pet at home, such as the best way to brush your dog's teeth, just let us know. Our team is always happy to demonstrate proper technique or answer any questions you may have. We can also recommend special prescriptive food that acts as a toothbrush to keep your pet's teeth and gum lines clean.