Portsmouth Vaccinations Protect Your Pet's Health
Portsmouth vaccinations
can help protect your pet from contracting one of several dangerous diseases. Vaccines are effective in over 95% of animals. In addition, routinely vaccinating your pet is much cheaper than paying for treatment if he or she contracts one of these diseases. Regular shots also reduce disease transmission within the pet population and prevent the re-emergence of eradicated diseases. At Churchland Animal Clinic, we provide vaccines for animals in the surrounding areas of Chesapeake, Suffolk, Hampton Roads and Tidewater, Virginia.
Our Portsmouth Animal Hospital Provides Important Vaccines
Our
Portsmouth Animal Hospital
recommends several dog vaccinations to prevent the contraction of rabies, DHPP, Leptospirosis, coronavirus, and bordetella. The rabies vaccine protects animals from a fatal virus that affects the central nervous system in cats, bats, dogs and raccoons. This vaccine is required by law and should be given at 12 or 16 weeks, re-administered in 1 year and repeated every 1 or 3 years. The 5-in-1 DHPP vaccination provides protection from distemper, hepatitis, parainfluenza, and parvovirus. The 6-in-1 DHLPP vaccine gives immunity against leptospirosis in addition to the aforementioned diseases.
Distemper is a widespread, contagious and deadly viral disease. Hepatitis is a contagious viral disease that can damage a dog's liver, that could potentially be fatal. Parvovirus is a disease that mainly infects puppies and is a very contagious, difficult infection for dogs to recover from. Parainfluenza is a common, highly contagious virus that affects the upper respiratory system.
Leptospirosis is the final component of the 6-in-1 DHLPP vaccine. It is an infectious bacterial disease transmitted by contact with the urine of an infected mammal. Vaccination against leptospirosis is recommended if the dog is specifically at risk. The coronavirus vaccine is one of the puppy vaccinations recommended at our clinic.
Symptoms of this infection are very similar to parvovirus. Finally, the bordetella vaccine protects against kennel cough by stimulating the dog's immunity using an inactivated form of the bacteria.
There are also several cat vaccinations that are excellent means of disease and illness prevention for cats. For cats, we recommend vaccines for FVRCPC, feline leukemia, and rabies. The 4-in-1 or FVRCPC vaccine protects cats from feline viral rhinotracheitis, a severe and widespread upper respiratory virus common in cats. In addition, it provides immunity against calicivirus, a respiratory virus that causes oral ulcers, blisters and can lead to pneumonia. The FVRCPC vaccine also provides protection against panleukopenia and chlamydia, two common viral diseases that are extremely contagious among cats.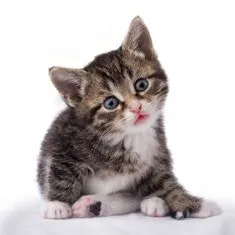 Feline leukemia is an incurable virus that is fatal in cats. There is a vaccine that can prevent feline leukemia if the cat has not been infected, so this is one of the kitten vaccinations that is recommended at our clinic. It is also important that owners have their cats tested for this disease if they have not already been screened for it. The rabies vaccine is also recommended for cats and is required by law in most areas of the country.
All of these vaccines will help protect your pet from disease and keep them healthy and happy for years to come. We encourage residents in Portsmouth, Hampton Roads, Chesapeake, Tidewater and Suffolk to keep up to date on the recommended vaccines for their pet. If you have questions about these vaccines, please call us at (757) 484-2733.